« Archives
News From Tracy Garrett
Contests | Latest Buzz | Media Spotlight | Latest Reviews | Authors | Books | Bestsellers | Newsletters | Blog

May 2008 ~ Vol.2, Issue 5
Coming November 2008!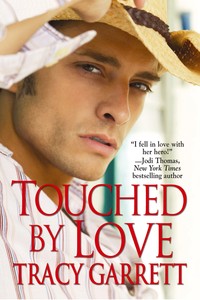 "I fell in love with her hero."
Jodi Thomas, NY Times bestselling author
Available Now!
"Suspenseful, heart-warming and...unforgettable."
NY Times Bestselling Author Lorraine Heath
Romantic Times 2008 Reviewer's Choice Award Nominee for Best First Historical
Order TOUCH OF TEXAS today!
ISBN: 1420101005
ISBN13: 9781420101003
If April showers bring May flowers...
I should be hip-deep in a glorious garden by now. Instead the temperature rose to 80 degrees one day and dropped back to 45 two days later. We do have tulips and jonquils, and the dogwoods and white hawthorns are gorgeous. The hummingbird scouts have been checking out our feeders for several days now. It shouldn't be long before we have a new flock to entertain us throughout the summer.
April was a very busy month for me. I spent a wonderful weekend at the Dreamin' in Dallas Conference. Lori Foster was our keynote speaker and what an inspiration she is, not to mention a great booksigning partner (we sat next to each other). Kresley Cole joined us as well, and was a delightful addition to our kickoff session.
A week later, I visited the RWA chapter in Wichita Falls, Texas. The ladies of the Red River Romance Writers were wonderful hosts and a very gracious audience.
I ended my travels for the month at the Romantic Times BookLovers Convention in Pittsburgh, PA. I'd never been to the city before, but I want to return. What a beautiful city! While at the Convention, I had the opportunity to meet with readers, some I knew from 'seeing' them online as well as new friends. I helped out with both the Beginning & Advanced Aspiring Writers courses, and enjoyed the eye-candy in the form of the very hunky gentlemen competing for Mr. Romance 2008. My personal favorite was John from Katy, Texas. Everything a cowboy should be: tall, broad-shouldered, soft-spoken, and looked great in a cowboy hat! Consider joining us in Orlando next year, April 22-26, 2009, for a wild week of books. You'll be glad you did.
I had so much fun at RT, I just have to share. For my May contest, I'm giving away the beautiful book tote I received at the convention, along with a bunch of books. Drop by Fresh Fiction and register to win!
UPCOMING APPEARANCES:
May 10 ~ NOLA Romance Writers, Shreveport, LA


May 26-June 1 ~ Guest Blogger, Behind the Scenes at Novelspot


June 14 ~ Yellow Rose Romance Writers, North Richland Hills, TX


July 30 ~ "Readers for Life" Charity Book Signing, San Francisco Marriott, 5:30-7:30pm


October 12 ~ 3rd Annual Buns & Roses Tea for Adult Literacy, Richardson, Texas
Happy Reading!
Tracy
:
TracyGarrett.com
P.O. Box 1581
Laurie, MO 65038
Fresh Fiction News Editor
©FreshFiction.com
Privacy Policy
--
To update your subscription (change from HTML to text, change your email, unsubscribe from this newsletter) visit [PREFERENCES]. If you received a copy from a friend and would like to receive your own, click [SUBSCRIBE]. If you've missed an issue of any of our newsletters, click [SUBSCRIBE] to find a link to our newsletter archives.
If you have a colleague who may be interested in this email, feel free to forward it via [FORWARD] and encourage them to sign up! All Fresh Fiction newsletters may be forwarded, printed or copied as long as the credits are included.
Off-The-Edge
5960 W. Parker Road
Suite 278 #119
Plano, Texas 75093
You've received this newsletter because you subscribed to it OR you entered one of Tracy's contests. To unsubscribe from all our newsletters please click [UNSUBSCRIBE].