« Archives
June News From Tracy Garrett
Contests | Latest Buzz | Media Spotlight | Latest Reviews | Authors | Books | Bestsellers | Newsletters | Blog

June 2008 ~ Vol.2, Issue 6
Coming November 2008!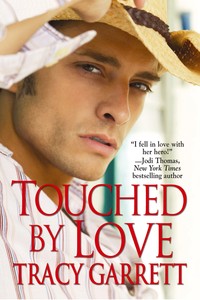 Pre-Order TOUCHED BY LOVE today!
ISBN: 1420101013
ISBN13: 9781420101010
"I fell in love with her hero."
Jodi Thomas, NY Times bestselling author
Order TOUCH OF TEXAS today! ISBN: 1420101005
ISBN13: 9781420101003
"Suspenseful, heart-warming and...unforgettable."
NY Times Bestselling Author Lorraine Heath

Winner! 2008 Winter Rose Contest
HOLT Medallion Award of Merit
A New Member of the Family
Last week, we added a new member to our family: an eleven-week old Border Terrier puppy named Wrigley. (Check out the pictures on my website, www.tracygarrett.com.) He is so cute, and too smart for my own good. He learns quickly, and is already deciding if he wants to bother using all that new information he has acquired—he is a terrier, after all. Stubborn breed! Our comfortable do-what-we-want-when- we-want-because-we-don't-have-children life is over. Everything revolves around the new baby in the house. We eat when he sleeps, we've made umpteen trips outside on the off chance that glance toward the door meant something, and we're getting up at the first sign of light in the sky, since that's when Wrigs decides it's time to go out--and you all know how well I'm coping, as I am SO not a morning person. But I must say, he's a wonderful addition to the family. Now if I can only live through the teething phase!
On the writing front, I'm gearing up to promote Touched By Love, which comes out in a little more than five months. The galleys – those are the page proofs that I get to review one last time before the book goes to print – arrived this week, so I have several hours of work left to do, then the book is finished! I'm also closing in on the end of Wolf's story. I hope to have good news about that story to share with all of you soon.
UPCOMING APPEARANCES:
June 14 ~ Yellow Rose Romance Writers, North Richland Hills, TX
July 30 ~ "Readers for Life" Charity Book Signing, San Francisco Marriott, 5:30-7:30pm
October 12 ~ 3rd Annual Buns & Roses Tea for Adult Literacy, Richardson, Texas
November 4 ~ Touched By Love is released!
While you're marking your calendars, make a note to run out and buy Trial By Fire, a great romantic suspense by author and friend Jo Davis. And if you want a new book today, I highly recommend my friend Jane Graves' newest release, Tall Tales and Wedding Veils. It's hilarious!
For my June contest, I'm giving away a Starbucks gift card, an autographed copy of Touch of Texas, and a signed cover flat of Touched By Love. Be sure to stop over at Fresh Fiction and register to win!
Happy Reading!
Tracy
TracyGarrett.com
P.O. Box 1581
Laurie, MO 65038
Fresh Fiction News Editor
©FreshFiction.com
Privacy Policy
--
To update your subscription (change from HTML to text, change your email, unsubscribe from this newsletter) visit [PREFERENCES]. If you received a copy from a friend and would like to receive your own, click [SUBSCRIBE]. If you've missed an issue of any of our newsletters, click [SUBSCRIBE] to find a link to our newsletter archives.
If you have a colleague who may be interested in this email, feel free to forward it via [FORWARD] and encourage them to sign up! All Fresh Fiction newsletters may be forwarded, printed or copied as long as the credits are included.
For sales and advertising inquiries, contact Sara Reyes, publisher, at sara@freshfiction.com.
For inquiries about reviews, contact Reviews Editor at editor@freshfiction.com.
Off-The-Edge
5960 W. Parker Road
Suite 278 #119
Plano, Texas 75093
You've received this newsletter because you subscribed to it OR you entered one of our contests. To unsubscribe from all our newsletters please click [UNSUBSCRIBE].