« Archives
Tracy Garrett Dog Days Of Summer News
Contests | Latest Buzz | Media Spotlight | Latest Reviews | Authors | Books | Bestsellers | Newsletters | Blog

August 2008 ~ Vol.2, Issue 8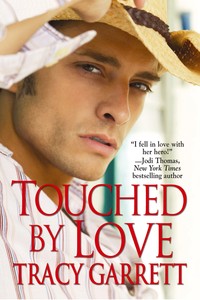 Pre-Order TOUCHED BY LOVE today!
ISBN13: 9781420101010
"I fell in love with her hero."
Jodi Thomas, NY Times bestselling author
Order TOUCH OF TEXAS today!
ISBN13: 9781420101003
"Suspenseful, heart-warming and...unforgettable."
NY Times Bestselling Author Lorraine Heath

Winner! 2008 Winter Rose Contest
HOLT Medallion Award of Merit
~ The Dog Days of Summer ~
You know those days when it's too hot to do much of anything but sit in a chair in front of the fan (on high, of course), drink icy cold lemonade and pray for rain? They've definitely come to Missouri! And I don't do HOT any better than I do MORNINGS.
Wrigley's trips outside are now either very early in the morning or very short. Then it's back inside to chase the ball down the hallway in the air conditioning before flopping on the nice cool floor under my desk for a nap.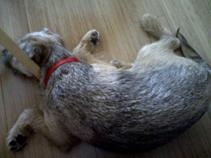 Wrigley
Wrigs is nearly 5 months old and a wonderful pal. He loves his devil squeaky toy and will turn cartwheels for a piece of ice. Told you it was hot here.
Only 3 months to the release of Touched By Love. For those of you who do your Christmas shopping early, at only $4.99, the book makes a good stocking stuffer!
Trial by Fire , the new book by romantic suspense author Jo Davis hits the shelves August 5. Don't miss this book! It's a fabulous, on-the-edge-of-your-seat read, staring some of the hunkiest firemen you'd ever hope to meet.
I'm hard at work finishing Wolf's story. I'll let you know when it will be published just as soon as I know. Next, there's Harvard...
August Contest
My August contest is the perfect way to get those books you've been wanting. Visit Fresh Fiction and register to win an autographed copy of Touch of Texas, an autographed copy of Jo Davis' Trial by Fire, and a signed cover flat of my next release, Touched By Love!
Happy Reading!
Tracy
TracyGarrett.com
P.O. Box 1581
Laurie, MO 65038
Fresh Fiction News Editor
©FreshFiction.com
Privacy Policy
--
Mailed for Tracy Garrett by:
Off-The-Edge
5960 W. Parker Road
Suite 278 #119
Plano, Texas 75093
You've received this newsletter because you subscribed to it OR you entered one of Tracy's contests. To unsubscribe from all our newsletters please click [UNSUBSCRIBE].