« Archives
News From Tracy Garrett
Contests | Latest Buzz | Media Spotlight | Latest Reviews | Authors | Books | Bestsellers | Newsletters | Blog

September 2008 ~ Vol.2, Issue 9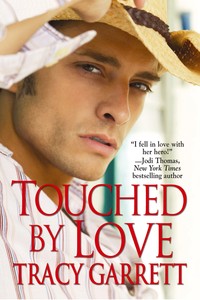 Pre-Order TOUCHED BY LOVE today!
ISBN13: 9781420101010
"I fell in love with her hero."
Jodi Thomas, NY Times bestselling author
Order TOUCH OF TEXAS today!
ISBN13: 9781420101003
"Suspenseful, heart-warming and...unforgettable."
NY Times Bestselling Author Lorraine Heath

Winner! 2008 Winter Rose Contest
HOLT Medallion Award of Merit
BACK TO SCHOOL
Holy cow, where did the summer go? Here in Missouri, most of the schools are back in session, buses are running, and it's gotten very quiet in the neighborhood. Since I live in a vacation/resort area, friends have returned home until next summer. Others are making plans to move to their winter homes in warmer climes, like California and Arizona. It won't be the same until they return in the spring.
On the book front, everything is lining up for the November release of TOUCHED BY LOVE. I've listed the first couple of booksigning on my calendar. As I schedule more appearances, I'll post them on my website, www.tracygarrett.com, under "On The Trail". If I'm in your area, please stop by and see me!
Wolf's story is almost finished, and we've begun looking for a home for it and the rest of the books in the series. I'll keep you posted.
APPEARANCES
November 8 ~ Barnes & Noble, Carbondale, IL ~ 1-3pm
November 15 ~ Barnes & Noble, Firewheel Center, Richardson, TX
I've posted some new pics of Wrigs. He's growing up so fast! Most of his puppy teeth are gone, and he's becoming a "dog" - although we still have puppy moments now and then. You should have seen him with the fresh green been this morning. lol
Don't forget the Buns & Roses Romance Tea for Literacy on Sunday, October 12, 2008, 2:00 p.m. to 5:00 p.m., at the Radisson Hotel in Richardson, Texas. Sherrilyn Kenyon is the keynote speaker! If you live in the Dallas area, you don't want to miss this event. Not only is it a great time with 35 wonderful romance writers and hundreds of readers who love romance as much as you do, but the proceeds benefit literacy programs in the host city. Though I can't be there this year, I know it will be a blast.
One last thing. I'm running a contest for the month of September at FreshFiction.com. Stop by and register to win fun prize package including an autographed copy of Touch of Texas, a signed cover flat of my next release, Touched By Love, and a couple of And tell all your friends to register, too. surprises that might come in handy if you've gone BACK TO SCHOOL!
That's all for this month. Hope to see you at one of my appearances.
Happy Reading!
Tracy
TracyGarrett.com
P.O. Box 1581
Laurie, MO 65038
Fresh Fiction News Editor
©FreshFiction.com
Privacy Policy
--
To update your subscription (change from HTML to text, change your email, unsubscribe from this newsletter) visit [PREFERENCES]. If you received a copy from a friend and would like to receive your own, click [SUBSCRIBE].
If you have a colleague who may be interested in this email, feel free to forward it via [FORWARD] and encourage them to sign up!
Sent on behalf of Tracy Garrett by:
Off-The-Edge
5960 W. Parker Road
Suite 278 #119
Plano, Texas 75093
You've received this newsletter because you subscribed to it OR you entered one of Tracy's contests. To unsubscribe from all our newsletters please click [UNSUBSCRIBE].