January 2012
Dear Reading Friends,
Happy New Year!
Instead of making resolutions this year, I decided to choose a single word that would encompass my intentions for the year (you can read more about that in my blog post for January 3rd) but, resolutions aside, I've decided to keep in better touch with my Reading Friends by blogging more often and sending this newsletter out once a month. Why? Because there is just so much I want to share with you!
First, I'm excited to show you the cover of my new book, TIES THAT BIND, the fifth book in the Cobbled Court Quilts series, which will be released on April 24th. Isn't it pretty?
This is the book many of you have been waiting for! It finally gives center stage to Margot Matthews, Evelyn Dixon's dear friend and colleague, who has played a supporting role since the series began. Over the years, many of you have written asking when I was going to tell Margot's story. My answer was, "not until I think up a story that is as special as she is. Margot means too much to me to rush this." This book is the result and I think it was worth the wait. Not only does it contain lots of plot twists and a satisfying ending with the characters you've grown to love, it introduces a new character, Philippa Clarkson, who I think you're really going to enjoy.
That's all I'm going to say about it for the moment, except that TIES THAT BIND is now available for pre-orders from your local bookstore or online retailer. If you want to, you could drop by the bookstore, pick up the phone, or boot up your computer and order it right now. Why don't you? I'll wait here patiently until you get back.
Okay, now that you've done that, I want to let you know that my publisher and I are putting together a new tour schedule the spring of 2012. We're considering over-the-road (as opposed to air) travel because it gives me an opportunity to visit more places. If you belong to a quilt guild and I happen to be driving through your area, this may give you an opportunity to book me to speak at your guild without having to pay any travel expenses, just the speaking fee. My next newsletter should have a more definite list of areas I'll be visiting, but if this would be of interest to your guild, pop an email to marie@mariebostwick.com and let me know. Your feedback may influence my final itinerary.
Winter is my heavy writing time and while you're reading this, I'll be taking part in a three-week writing residency at the Virginia Center for Creative Arts, working on my 2013 release. I only have three words to say about that book right now – Mary Dell Templeton – but if you've read my books, you know how much fun I'm having. She's a hoot.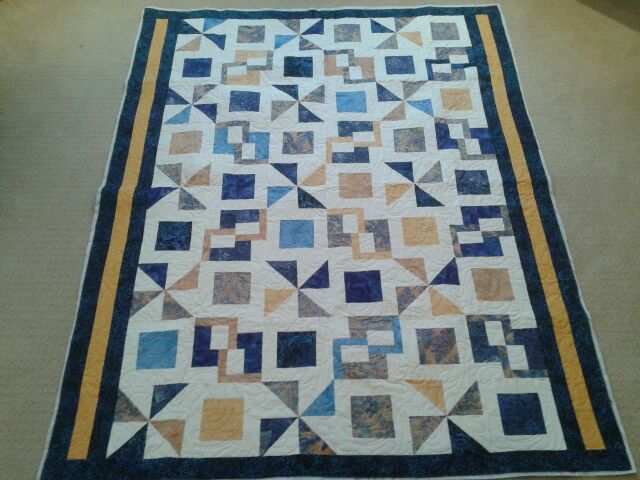 Winter is also the time I get to do a little extra quilting. Right now, I'm finishing the binding on this quilt I made to donate to a very special charity.
A couple of years ago, my friend, Victoria Findlay Wolfe, owner of Bumblebeans, Inc., maker of original and custom quilts, decided to donate a couple of her extra quilts to BASIC Housing, an organization that helps homeless families in the NYC metro area get into transitional housing. When she asked the BASIC director how many quilts they could use, the answer was 700!
Victoria is one of the best quilters I know and very prolific, but this was an order she couldn't fill alone. So, Victoria called on her fellow quilters to lend a hand. Two years later, the goal is within reach. And I'm so honored to be among her helpers! Please take a moment visit http://bumblebeansbasics.com/ to watch a touching video showing happy new owners of these lovely quilts and consider donating a quilt to this very worthy cause. If you do, I promise you'll feel warm and fuzzy all over – so will the lucky family who gets your quilt!
Well, that's all for now...Oh, except to say I have a new fanpage on Facebook. I'm over there just about every day. Go to https://www.facebook.com/mariebostwick and click the "like" button, if you'd like to connect with me there. It's always good to talk with you. Until next time....
Blessings and best wishes for a happy, healthy, joyous 2012,
Blessings,



Marie Bostwick